Google's latest announcement at Google I/O 2023 event revealed new generative AI features for its Workspace tools, including Docs, Gmail, Sheets, and Slides. One of the main features is the "Help Me Write" button, which can generate text from scratch or rewrite the existing copy. While it may be helpful for content marketing services who need help with writing or prefer convenience, AI-generated text can sometimes require more accuracy or originality.
The feature is concerning as it could enable students to cheat on assignments or writers to plagiarize content. Furthermore, it needs to improve its promise to improve writing as it replaces the author's voice with its own. The "Help Me Write" button is accessible in Google Docs and Gmail. It appears as a floating pen icon in Google Docs, while in Gmail, it can be found at the bottom of the compose window. This feature enables users to generate AI-generated text based on a writing prompt. The generated content can then be inserted, refined, or recreated.
The feature also offers options to refine the text by formalizing, shortening, elaborating, or rephrasing it. Notably, it can be exploited by students seeking to cheat on their homework, as it can generate essays targeted at specific grade levels. The tool has limitations regarding result length and needs to incorporate web-based information, hindering its usefulness. content marketing services can also use the "Help Me Write" button to rewrite the selected text, but it cannot provide constructive feedback or suggestions for improvement. While AI has potential, it falls short of being a beneficial writing tool, as it aims to replace rather than assist the writer and needs more sophistication for more advanced writing tasks.
How Can "Help Me Write" Help You?
Writes Emails for You
Sundar Pichai (CEO of Google) announced the feature with the example of asking the AI tool to write a mail to an airline for a refund. The AI tool creates an entire email asking for a refund using past exchanges with the airline. The additional feature of this AI tool is formalizing, shortening, or elaborating the content.
Efficient Communication
The AI tool helps users efficiently create follow-up emails, thank-you notes, and cover letters for job applications. Acting as an extension to Gmail's Smart Reply and Smart Compose features enables users to generate these emails swiftly and effectively.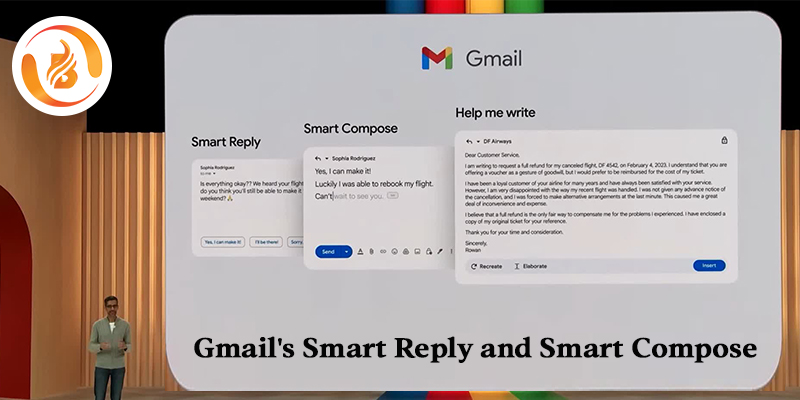 Stay Organized and Improve Your Writing Skills
The tool keeps track of email templates, which allows users to stay organized. It also produces more polished and professional emails by offering suggestions and feedback to improve your writing skills.
Benefits of the "Help Me Write" Tool:
Save time: Generates email drafts, which saves time for frequent email senders or unsure email writers.
Improve accuracy: Rectifies grammatical and spelling errors by suggesting relevant phrases and sentences.
Improve clarity: The tool suggests concise and easy-to-understand language to ensure clear communication.
Make emails more engaging: It conveys ideas effectively by recommending persuasive and impactful language.
Reach a wider audience: The AI tool suggests suitable language for different audiences to ensure a better understanding of the email.
How to Use "Help Me Write"
Start typing an email in Gmail.
Start writing a new email in Gmail and check your "Help me write" button.
Click on the "Help me write" button.
Click on the "Help me write" button and give your input prompts for drafting your email.
The AI will generate a draft of the email based on your input.
AI will draft an email based on input suggestions given by you.
Open your Gmail account through a web browser or an app.
Click on compose button.
Insert your text and choose Create option
The AI will generate the content.
Analyze and edit the content
Select the option Insert to add the generated text to your email.
How to Use Google to Help Me Write?
The Help Me Write feature can be accessed via Gmail and Docs once you can access that new feature.
Open a new Google Doc by going to Google Drive.
Click on the Help Me Write option at the bottom of the page and input a summary of the content you want to write.
Click on Create
If you don't like the generated content, you can click the Recreate option, or you can also manually edit the text.
Once you agree with the content, clicking Insert will add it to the document.
Visit us at: www.biovustechnologies.com