Digital Marketing is evolved from analyzing websites for better traffics to lead generation. With technology, AI, and Content Creation, the best digital marketer in India can see new trends. Every day that drives the curiosity to learn all of them. The everlasting impression creates the trust that makes them succeed in the field.
In India, skills are required more than a degree to get high payable jobs. Out of all IT services, digital marketing skills and demands are growing much faster than expected.
Why are digital marketing skills specialized?
In 2023, the demand for the best digital marketer in India is growing higher while the brands are ready to promote more exposure. The professionals and the brands are looking for an SMM executive and an SEO executive together to promote their businesses.
The list of qualities for the Niche digital marketers 
Adaptability Advantage: The best digital marketer in India should move at a frightening speed with the rollout and the updates of Google. 
Joint Endeavors: It is one of the best qualities for the digital marketer for optimizing the website, content marketing, and social media campaigns.
Curiosity Drive: Keep up-to-date technical and industrial news for project management, data analysis, or PPC.
Inspiring Attitude: A positive attitude brings up the ability to develop creative and productive concepts.
Analytical Expertise: The ability to figure out the things to make something better, try new concepts, and their analytical drive towards success.
The list of skills that Best Digital Marketers in India for Inspiring Growth, Making Waves!
Content Making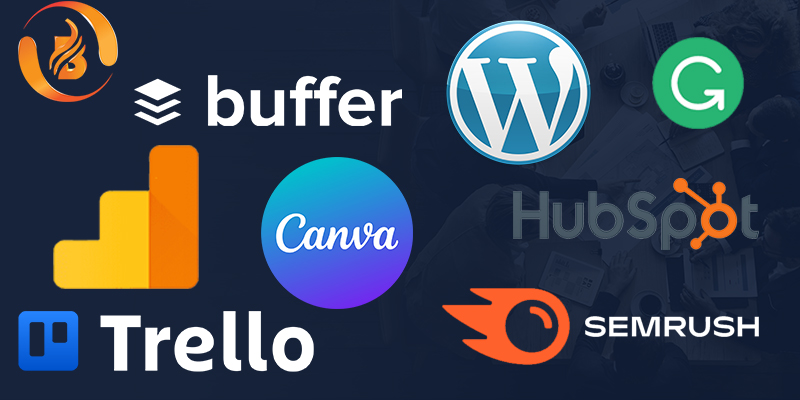 The company has to stay relevant with its impressive content to drive traffic. The best digital marketer in India has to pay attention to the quality content for social media posts and blogs. The list of content-making tools that promote content marketing strategy for the business.
HubSpot: A comprehensive content management and marketing automation platform with features for creating, optimizing, and distributing content across various channels.
SEMrush: Apart from its SEO capabilities, SEMrush offers content marketing tools such as content ideation, content optimization, and content performance tracking.
CoSchedule: This tool helps with content planning, scheduling, and collaboration, allowing marketers to streamline their content production and distribution.
BuzzSumo: BuzzSumo helps identify trending content and popular topics, allowing marketers to discover ideas, track competitors, and analyze content performance.
Grammarly: A popular writing tool that helps improve grammar, spelling, and readability, ensuring high-quality content.
Canva: With its drag-and-drop interface and ready-to-use templates, Canva simplifies the creation of visually appealing graphics and visuals for content marketing.
Trello: A project management tool that helps organize and track content creation workflows, assign tasks, and collaborate with team members.
Google Analytics: Essential for tracking content performance, measuring engagement, and gaining insights into audience behavior.
Buffer: Multiple social media options provide automated scheduling and publishing options.
WordPress: The CMS offers flexibility, customization options, and easy content publishing.
Design Fundamentals
Successful digital marketers should have a strong ability and knowledge about the designing platform, including Canva, and Adobe Photoshop, to design posts to create brand awareness.
Canva: A user-friendly tool for creating graphics, social media posts, presentations, and more.
Adobe Creative Cloud: A suite of professional design tools, including Photoshop, Illustrator, InDesign, and more.
Piktochart: An infographic design tool for creating visually appealing and informative graphics.
Crello: A design tool with pre-designed templates for social media posts, banners, ads, and more.
Snappa: An easy-to-use tool for creating graphics, social media posts, and ad designs.
Venngage: A tool for creating infographics, reports, and data visualizations.
Pablo by Buffer: A simple tool for creating social media graphics with ready-to-use templates.
Easil: A design tool with templates for social media posts, presentations, posters, and more.
Adobe Spark: A tool for creating social media graphics, videos, and web pages.
Figma: A collaborative design tool for creating user interfaces, wireframes, and prototypes.
Search Engine Optimization 
The best digital marketer in India should have specific knowledge about the SEO process. SEO is a technical and analytical field that comprises Sitemaps, and robots.txt. Such kinds of indexing and crawling issues to be fixed every time to rank the specific URL.
SEMrush
Ahrefs
Moz Pro
Google Search Console
Screaming Frog SEO Spider
Yoast SEO
Serpstat
SE Ranking
Majestic SEO
SpyFu
Analytics
Most technical digital marketer leads to failures when they fail to analyze the exact data for their brand. In recent, tons of data has become available, and it is necessary to spot the right trends for the marketing campaign.
The list of analytics tools for digital marketing:
Google Analytics
Adobe Analytics
Facebook Analytics
Mixpanel
Kissmetrics
Hotjar
SEMrush
Moz Analytics
Ahrefs
Crazy Egg
HubSpot Analytics
Piwik/Matomo
Shopify Analytics
Sprout Social
Hootsuite Analytics
Marketing Automation
The technical software that optimizes and automates marketing activities. It identifies the targeted audience and automates the potential customers into leads. The best Marketing automation includes SMS marketing, website notifications, push notifications, email marketing, and pop-ups.
There are numerous tools available for marketing automation that help streamline and automate various marketing tasks and workflows. Here are some commonly used tools for marketing automation:
HubSpot: HubSpot provides a comprehensive marketing automation platform that includes features such as email marketing, lead nurturing, lead scoring, contact management, analytics, and more.
Marketo: Marketo offers a robust marketing automation platform that enables marketers to automate lead generation, lead nurturing, email marketing, campaign management, and analytics.
Pardot: Pardot, built on the Salesforce platform, provides marketing automation features such as lead management, email marketing, lead scoring, landing page creation, and ROI tracking.
ActiveCampaign: ActiveCampaign offers an all-in-one marketing automation platform that combines email marketing, CRM, marketing automation, sales automation, and customer segmentation.
Mailchimp: Mailchimp is a popular tool known for its email marketing capabilities, but it also offers marketing automation features like audience segmentation, automated email campaigns, and e-commerce integration.
Drip: Drip focuses on e-commerce marketing automation, providing features like personalized email marketing, automation workflows, customer segmentation, and integration with popular e-commerce platforms.
ConvertKit: ConvertKit is primarily designed for bloggers and content creators, offering automation features for email marketing, lead capture, audience segmentation, and personalized content delivery.
GetResponse: It is an all-in-one marketing platform that includes email marketing, marketing automation, landing page creation, and webinar hosting, helping businesses automate and optimize their marketing efforts.
Infusionsoft by Keap: Infusionsoft by Keap is designed for small businesses and offers marketing automation features such as CRM, email marketing, lead scoring, campaign management, and e-commerce functionality.
Eloqua: Eloqua, part of Oracle's marketing cloud, provides a comprehensive marketing automation solution with features like lead management, email marketing, campaign management, and analytics.
These tools empower marketers to automate repetitive tasks, nurture leads, personalize communication, track campaign performance, and optimize marketing efforts to drive better results and enhance overall marketing efficiency.
In conclusion, the best digital marketing qualities encompass a diverse range of skills, traits, and approaches that contribute to success. From strategic thinking and data-driven decision-making to creativity and adaptability, these qualities form the foundation for effective digital marketing campaigns.
Visit us at: www.biovustechnologies.com