Non-fungible tokens have been around for a while, but only in the past year have their applications and also use cases gained widespread acceptance. The Solana NFT market capital has increased by $40 billion, per the data provided by Chain analysis. Businesses appear eager to take advantage of the NFT trend as it gains popularity by enabling a fully functional NFT marketplace for its users.
We have a compelling reason to focus on developing an NFT marketplace on the Solana blockchain in this post because it bills itself as the fastest and most effective third-generation blockchain protocol. Before starting the marketplace construction, let's first gain some knowledge of the Solana Network and NFT market.
NFTs are based on the blockchain, hence the decentralized ecosystem of the blockchain must also be used to build and manage the NFT market. Third-generation blockchains can enable the construction of new-age and highly feature-rich markets, allowing the firms to succeed and also garner higher engagement. While many blockchains support the establishment of NFT marketplaces.
Solana Ecosystem
With the primary goal of addressing scalability issues, Solana is regarded as the decentralized ecosystem that functions as a proof of stake consensus algorithm. However, Solana facilitates the creation of Dapps and smart contracts in addition to NFT marketplace development. A cutting-edge blockchain protocol called Solana was created to facilitate the creation of dApps that are highly scalable, inventive, and feature-rich.
Solanart Clone Script
The NFT marketplace script sometimes referred to as the Solanart clone Script, was created specifically for the deployment of an NFT marketplace on the Solana blockchain. With the help of this clone script, a sturdy platform that performs like a copy of Solanart is produced. It includes all of Solanart's capabilities, and its growing popularity is a result of the customization it provides. It is adaptable and gives customers the freedom to choose things like UI/UX, functionality, payment gateways, and other APIs.
Development Of Solana NFT Marketplace
The construction of the Solana NFT marketplace entails building a platform for NFT on the Solana Blockchain with rigorous security measures that encourage efficient trading, buying, and listing of NFT across all industries, including art, sports, music, gaming, and so on. On Solana, highly qualified developers offer many different services, including NFT Exchange Development, Blockchain Development, and Token Development. Businesses can swiftly establish their preferred platform on the Solana Blockchain with the help of our Solana NFT Marketplace Script.
Solana The Best Choice For NFT Marketplace Development
Because of its distinctive design, Solana can perform tasks that no other blockchain can. Tens of thousands of transactions can be handled per second.
In actuality, Solana's critical competitive advantage with this platform is its quickness and low transaction fee.
The Solana native token, SOL, rose by 200 percent in August when Solana was at its height. As a result, Solana draws numerous traders and investors at once. So it makes sense to launch a firm at its peak.
There is no need to worry about any loopholes or other trailing effects because Solana is generally promoted as a long-term project because of its excellent algorithmic architecture.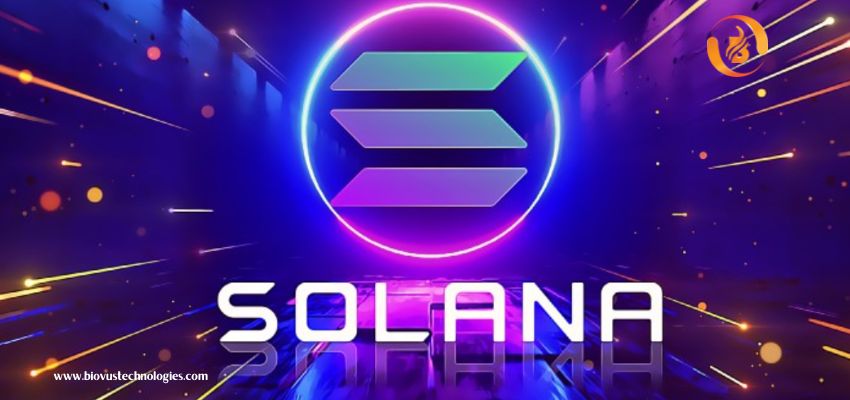 Advantages Of Solana NFT Marketplace Development
For listing crypto assets, making NFTs, setting metadata, and auctioning them off in the NFT marketplace, simple user management, and login UI/UX are required.
Eye-catching storefront; dashboard communicates with a smart contract to generate NFTs and connect them to a cryptocurrency asset.
Protected Wallet
A thorough search feature for using your NFT marketplace
The creation of Native Platform Token as an Application Native Token. To expand the token market's supply and give users the option of buying NFT with native platform Token.
A time-based bidding and auction system to raise the NFT bid amounts.
The IPFS File System hosts NFT Metadata Storage (Decentralised and also Distributed Storage Systems)
The admin panel offers access to user administration, token management, NFT management, data management, and also static content management.
Automated and manual Smart Contract Audit Reports; autonomous unit to ensure independence, integrity, and extensibility.
DevOps and also continuous integration makes ensuring that security and post-launch changes are introduced without affecting your marketplace's availability.
Steps In Solana NFT Development Process
#1: Create a first-rate user interface for the NFT market.
#2: Coding the necessary NFT marketplace functions.
#3: Developing Smart Contracts for Core Features is the third step.
#4: Perform an audit of intelligent contracts using all necessary test cases.
#5: Integrating the Front End and Back End of Smart Contracts.
#6: Upload to the test net to test the client.
#7: Mainnet deployment or public beta release.
The Reason Behind Solana For NFT marketplace Development
Solana features a distinctive design that operates differently. It has the capacity to do numerous transactions with little transaction costs. The quickness and affordable transaction fees of Solana are the two key factors contributing to its popularity among online gamers. When the native token increases by up to 200%, many investors become interested in starting a business.
End Note
For your upcoming project, are you looking for an NFT marketplace development company? Our team of NFT Marketplace Developers at Biovus Blockchain Technologies is committed to creating scalable and reliable NFT marketplaces. Keeping up with cryptocurrency trends has paved the door for the emergence of other NFT marketplaces, including those for music, games, and art. For clients from all across the world, our professionals have developed numerous NFT marketplaces. Connect with our experts to learn more about blockchain, metaverse, cryptocurrencies, and also NFT marketplaces.
visit us on: www.biovustechnologies.com